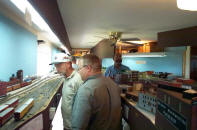 Blair, Jerry and Doug getting the lay of the land.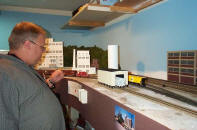 Blair switching the MoP.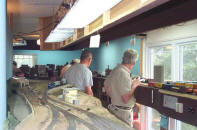 Our MoP transfer passing Sana Fe Junction. In the back, things get pretty busy around the Produce Yard.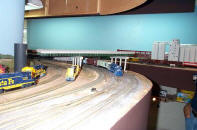 Our MoP train coming into the Santa Fe Argentine Yard.
The MoP crew's last transfer run.before going to beans. Pearre's running the Santa Fe with Doug. Look's like they're moving some giant blue paper!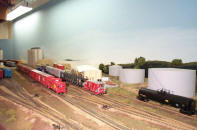 The Santa Fe's industry. Our MoP geep is making a run around.
Alf and Mike working the KCS Knoche yard.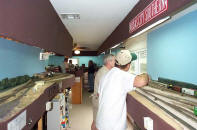 KCS on the Right, Santa Fe's wye to hidden staging on the left and Frisco's West bottoms at teh end of the room.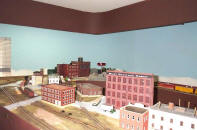 The West Bottoms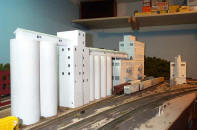 Gold Medal Floor on the MoP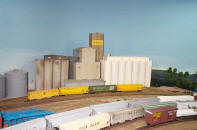 Scoular Elevator on the KCS, behind the MoP yard.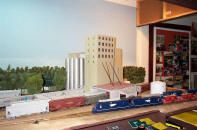 Elevator on the MoP with GE consist put to bed. KCS coal train behind on it's way to Kansan City Light and power behind the door we see here.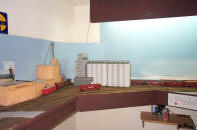 Tight switching on the Santa Fe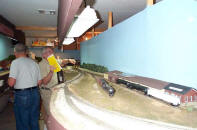 Things have switched around after dinner, now Mike and I are switching the Santa Fe's 5th street freight house. Bart is behind switching the MoP.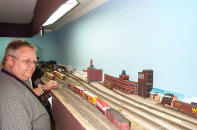 Come on back Clem. Back, back. That'll do. Blair conducting on the Frisco with Clem, I mean Alf at the throttle.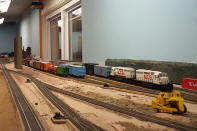 Nice KCS consist pulls into Knoche Yard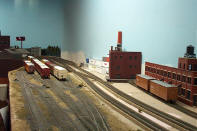 Speas Vinegar on the KCS and the Produce Yard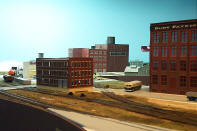 The West Botoms.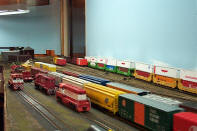 The Frisco Nineteenth Street Yard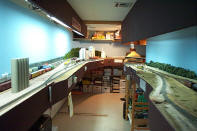 Looking back from West Bottoms. KCS on left and Santa Fe Junction on Right. Armourdale staging is behind the wall.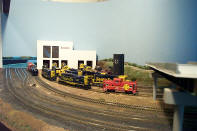 Santa Fe engine facility.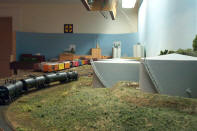 Sinclair tank farm on Santa Fe